EQUIGLO 10 MINUTE BEET ®
NEWS RELEASE
Feed manufacturer branches out into equine sector
19th September 2017
Henry Bell & Co (Grantham) Ltd has extended its portfolio of premium animal feed products to include the new EQUIGLO brand delivering first-class equine nutrition at great value-for-money prices. The first product from the EQUIGLO stable is Quick Soak 10 MINUTE BEET, which is perfect for all horses and ponies.
"This product offers retailers a fantastic opportunity to stock quality fibre feed at a really good price point," said Simon Parker, of Henry Bell. "We have been a trusted name in the feed sector since 1825 and are immensely proud of the knowledge and expertise that underpins the EQUIGLO range. We are confident that Quick Soak 10 MINUTE BEET will prove a popular feed option for customers, with easy-to-handle, 18kg bags and an attractive price tag."
The high-fibre, low-sugar and starch feed is a member of the BETA NOPS assurance scheme and made from non-GM, British-grown, unmolassed and micronized sugar beet, which is highly digestible and acts as a natural probiotic in the horse's gut.
A 100 per cent natural British superfood, EQUIGLO Quick Soak 10 MINUTE BEET provides a convenient source of non-heating energy for working horses and ponies all year round – and is perfect for those prone to laminitis. It is an ideal replacement for cereal-based feeds and forage, particularly for veterans with poor dentition or when quality is poor.
EQUIGLO Quick Soak 10 MINUTE BEET (18kg): RRP £9.95.
For further information, telephone 01476 565761 or email info@equiglohorsefeeds.co.uk.
EQUIGLO and 10 MINUTE BEET are registered trademarks of Henry Bell & Co (Grantham) Limited.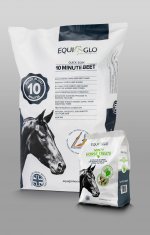 e
Henry Bell wins the trade mark infringement case that Supreme Petfoods bought against them.
READ IN MORE DETAIL:
---
Mr Johnson's is part of Henry Bell & Co a family-owned business that have been producing animal feeds for over 100 years. All those years experience have been put to good use in develipoment of unique and tasty recipes that small animals really enjoy, whilst providing the essential balanced diet for small animals health and vitality.
Links
Henry Bell are members of FEMAS.
FEMAS covers all feed ingredients intended for direct feeding to animals or for inclusion in compound feeds and blends. It is based on HACCP principles, a system originally pioneered by space agency NASA, but now forming the bedrock of EU Food and Feed legislation.